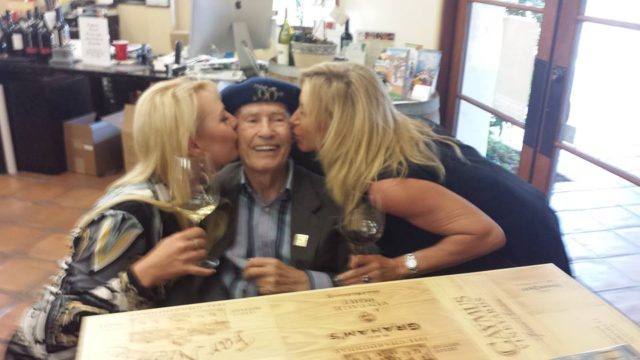 There was a time, not too long ago, when "wine" and "North America" were never uttered in the same breath. Good wine, it was felt, came from France or Italy – the end. Now, picture a wine lover from that era in your head. Got it? Imagine that person's response to you if you were to come up and tell them, after a lifetime of drinking wine from France, that you had an incredible bottle of California wine that they just had to try.
You can see where they might have some doubts!
In fact, so completely were people convinced of the superiority of French vintages that a British wine merchant who sold only French wines, Steven Spurrier, organized a blind tasting in 1976 with the intent of putting the upstart Americans in their place. The event was held in Paris, and was viewed as being such a waste of time that most media outlets didn't even bother covering it. The winner, it was believed, was a foregone conclusion.
Imagine the surprise when California wines won in both the white and red categories! A Chardonnay made by now-legendary vintner Mike Grgich working for Chateau Montelena and a Cabernet Sauvignon (from Warren Winiarski of Stags Leap Wine Cellars) took the top prizes. As Grgich has said of the victory, "for years, everybody in the world believed that only French soils could produce great wines… we shattered that myth."
That event put California wines on the map and opened the floodgates for new wines around the world, and today you can find outstanding wines from just about everywhere – Argentina, Australia, and of course the United States. In fact, if you look at a map of the regions that have a suitable grape-growing climate, there are plenty of places that fit the bill, and more and more of those places are taking advantage of that climate. It's a "Great Wine Rush" that's far from over. In fact, it's only been accelerating as more regions determine that they're able to raise grapes to suit wine needs.
Younger wine drinkers have always known California as a wine powerhouse. That's great for US wines, but it does lead to the potential trap of people thinking the same thing that they used to think about France, except this time about California. Washington and Oregon have gone through a similar process.
Living in Idaho as I do now, I'm experiencing a similar thing when I work through tasting rooms. People come in with very low expectations for the wines from the region – and they certainly don't assume otherwise when they first see me, just some girl they think is from the middle of nowhere! There's no way they can know that I'm from California, or that I know anything about wine (and my move to Idaho is quite a story in its own right, but that's for another post). But the wines here are as good, or better, than anything coming out of California, and it won't be long before that's common knowledge.
That's not to say that France and California don't have great wines. They do! But it's important to keep in mind that great wine is a product of a complex of terrain, growing conditions, growing techniques, and processing. Great wine knowledge is being shared around the world, and people are learning to adapt wine grapes to new and exciting regions with unique climates. It truly is a golden age of wine!
– Mary